How To Reduce Nutrient Loss when Cooking Vegetables
The processes related to production, storage, and preparing methods have a direct effect on vegetable nutritional content. Cooking food has benefits such as ease chewing, digestion, and absorption of nutrients (*). Furthermore, raw vegetables also have great nutrient content. There are different ways to minimize nutrient loss when consuming vegetables.
Tips to reduce nutrient loss
Little water
To wash each vegetable before cutting it. It reduces the surface exposed to water, avoiding water-soluble vitamin loss such as vitamin C and B vitamins. They are vulnerable to water and heat contact (*; *). Another way to reduce that exposition is to add vegetables when the water boils. That cooking method of boiling is the alternative with the highest vitamin C content reduction (*), in which an average of 14 % antioxidants are lost (*).
The main shortcoming of this cooking method of boiling is discarding the water in which vegetables are cooking. This remaining water is full of nutrients. Thus, to avoid that loss is good to use it in soups or to cook grains.
There are other cooking methods with the least contact to water, such as steaming, which is one of the best alternatives to preserve nutrients like fat-soluble vitamins. Steamed broccoli, spinach, or lettuce show a low reduction of vitamin C content between 9-15 % (*). On the other hand, the method of pressure-cooking requires a certain precision because each vegetable has its requirements. Like the boiling technique, you should use the water as part of food preparation.
To cut into large and uniform pieces
To cut vegetables breaks down their cell walls that allow nutrients to escape into the water on contact. Large pieces mean there will be less surface area because they are less exposed to heat and water, so there is less nutrient loss. After preparation, they can be cut into small pieces for consumption. To cut vegetables in small pieces to make soups is also a good option because everything is consumed.
It is necessary to make uniform cuts to make sure everything will be in its point at the same time. It avoids food overcooking, which means a higher nutrient loss.
To cook immediately after cutting vegetables
Light and air affect vitamin C content, which can be minimized by cutting vegetables just before eating them. In that way, we prevent oxidation from causing nutrient loss, such as eggplant, which oxidizes very fast when you cut it. If you need to cut vegetables in advance due to lack of time, they should be stored in an airtight container in the fridge. Another option is to store them in the freezer. In this case, it must be taken into account that there will also be a decrease in the nutritional value and the deterioration process will be slower than in foods stored in the fridge or at room temperature. On the other hand, stored pre-cooked vegetables should be eaten between 1 or 2 days because vitamin C content can keep decreasing when cooked food is exposed to air.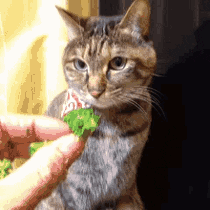 Tip

Adding lemon to salads to absorb iron from the veggies.
Minimum cooking time
The most vulnerable vitamins to destruction by heat are thiamine (B1) and vitamin C. Thus, fast cooking methods help preserve these nutrients such as steaming and baking. The latter usually keep vegetables in large pieces at high temperatures and in less time. On the other hand, the cooking method of frying is a good option under suitable temperatures, good sources of oil, and the appropriate cooking time for the vegetable, otherwise, free radicals and carcinogenic compounds would be produced (*). Keep in mind that each vegetable has different requirements to obtain its soft versions, such as temperature, cooking time, and method. It is necessary to cook each vegetable apart and combine them at the end.
The antioxidant activity in fried eggplant is higher than its fresh version (*).
***
There is no cooking method to preserve all the nutritional content. The best option is to maintain a varied diet that includes both raw and cooked vegetables from different cooking methods. Thus, our body absorbs a high amount and variability of vitamins and minerals for its proper functioning.